Frank Gary Vince l'evento#41, $1,500 Mixed Hold'em, Jonathan Tamayo Eliminato al 2° posto ($140,093)
Postato
2008-06-25 01:15 GMT-7
di
donpeters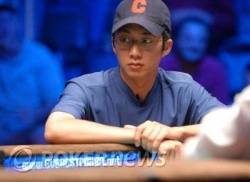 No-Limit Hold'em:
Dopo essere stato azzoppato nell'ultima mano del periodo limit, Jonathan Tamayo decide di andare all in. Frank Gary chiama.
Gary ha
e Tamayo è dietro con
.
Il flop è
, e Tamayo è vicino alla fine.
Turn
, Tamayo trova qualche out per la scala.
Mentre i supporters di Tamayo chiamano il cinque di cuori, il dealer piazza un
al river che pone fine alle speranze di Tamayo.
Tamayo chiude al secondo posto aggiudicandosi $140,093.
Frank Gary wins the event, $219,562, and the coveted gold bracelet!
Tags: Jonathan Tamayo, Frank Gary.