Buchman Gets Shovey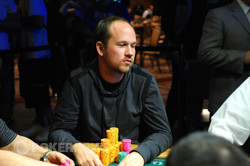 No-Limit Hold'em
John Monnette opened to 50,000 from the button, and Eric Buchman three-bet jammed for 306,000. Monnette had the dealer break it down, and he scruffily considered for a bit before slipping his cards into the muck.
Buchman has three-bet shoved once and open-shoved the button once more in the meantime. He's worked his stack up to 450,000 again.
Tags: John Monnette, Eric Buchman.